Security for the Internet of Things
Always one step ahead
The Internet of Things is a new technology paradigm consisting of a global network of machines and devices with the ability to interact with each other. Due to the significant increases in efficiency, increasing business areas are becoming dependent on the technology. This dependency makes IoT applications a lucrative target for attackers, which is why security issues need to be considered from the start.
We, PHYSEC GmbH, are a young deep-tech company from Bochum. As a spin-off of the renowned Horst Görtz Institute for IT Security (HGI) in Bochum, we look at IoT security holistically from the perspective of research, regulatory authorities and industry. We develop key technologies necessary for the full development of the powerful potential of the new technology paradigm.
About us
Innovative and performance-oriented
Our largest business area is the economically efficient and secure digitalisation of infrastructures in the energy and water industries. We not only offer our customers state-of-the-art transmission technologies, we also offer solutions for their safe use in regulated areas. In contrast to the widespread standard solutions, compliance with the relevant industry standards and the requirements of the GDPR, the BSI and ENISA is not a problem with PHYSEC. This makes us the right partner for municipal utilities when it comes to the secure digitalisation of supply networks.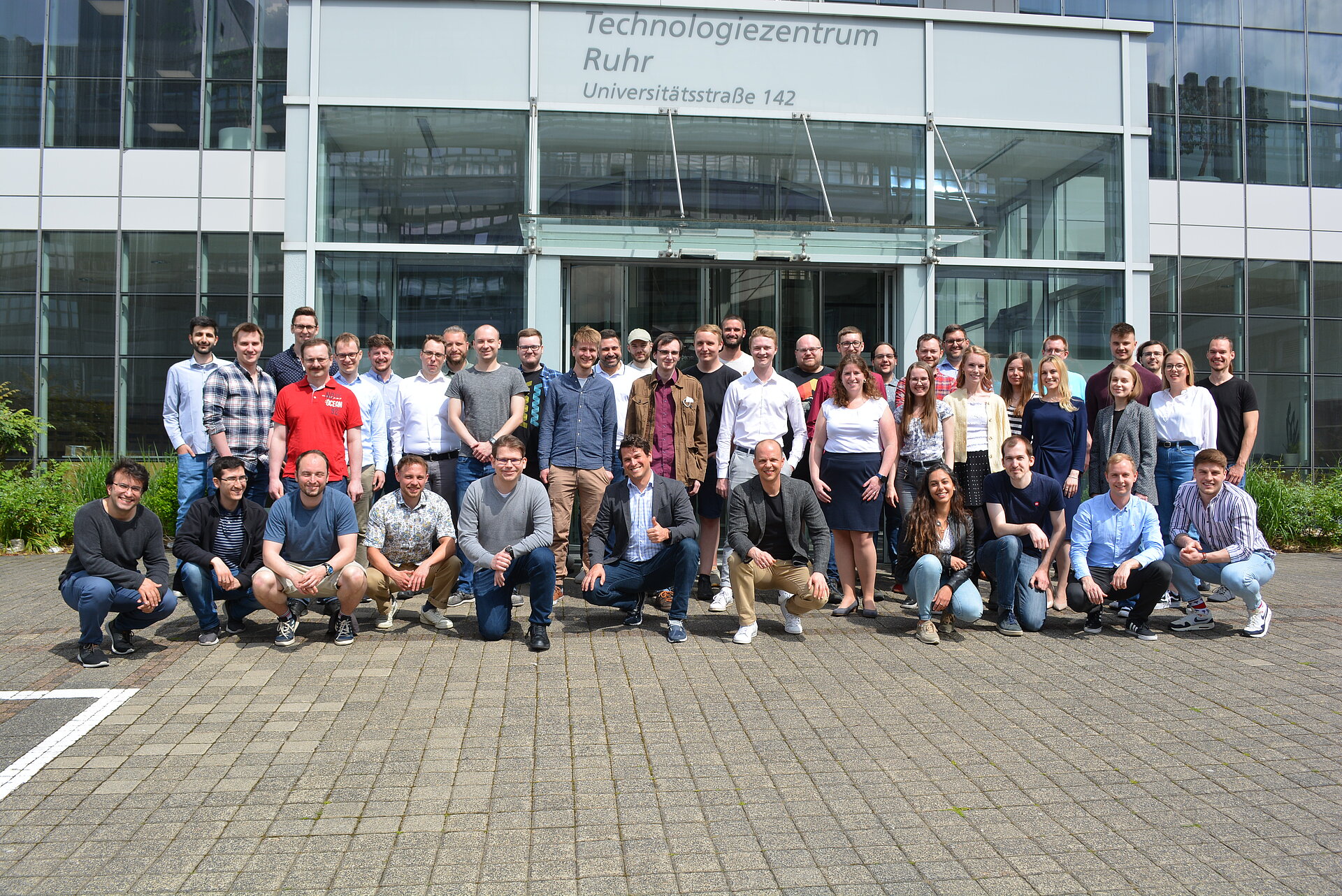 Creating great things together
- Our Values, Vision & Mission
The name PHYSEC has its origin in the cutting-edge research of "Physical Layer Security" at the Horst Görtz Institute. Therefore, the company has the same name as the technology on the basis of which we offer products to secure the Internet of Things.
Our unique selling point is the unique combination and deep know-how in applied cryptography and communications engineering. Founded in April 2016, we have a vision to protect every IoT device in this world with our technology. PHYSEC is becoming the internationally recognized standard and foundational technology for all cyber-physical devices. We are IoT security pioneers and with IoTree we create the foundation for digital self-determination of companies and citizens as well as sustainable digitalization and added value on the Internet of Things.
FOR THIS PURPOSE, WE ARE GUIDED BY THREE VALUE CONCEPTS:

We are ambitious visionaries
We embrace the change
We will always support you
These three values are highlighted by our motto "Creating great things together".

The team is always our first priority, without compromise. Only together and through the individual contribution of every single employee do we become what PHYSEC is all about:
A successful scale-up company with exceptional team cohesion, an innovative mission and the opportunity to personally contribute in a big way. This makes PHYSEC unique and creates innovative security solutions for applications on the Internet of Things.
Career at PHYSEC
Creating great things together
As a growing tech company, we are constantly looking for people to strengthen our young team and contribute their expertise. Apply to us and take the opportunity to shape the future of the IoT in a flexible working environment. We offer space for creativity, innovation and self-realization.
Our interdisciplinary team consists of security engineers, security analysts, IT specialists, RF developers, marketing professionals, HR managers and finance experts.
Find out more about what working in our ambitious and international team with flat hierarchies looks like. With us, employees and their ideas and suggestions are individually promoted.