Keep IoT simple and secure
IoTree is an IoT service platform and has been designed from the ground up to be secure, user-friendly and compliant with the relevant regulatory framework. In addition, IoTree is fast to deploy and can be implemented across the board. IoTree enables digital business models based on physical products and was developed with the requirements for major rollouts of water and heat meters in mind.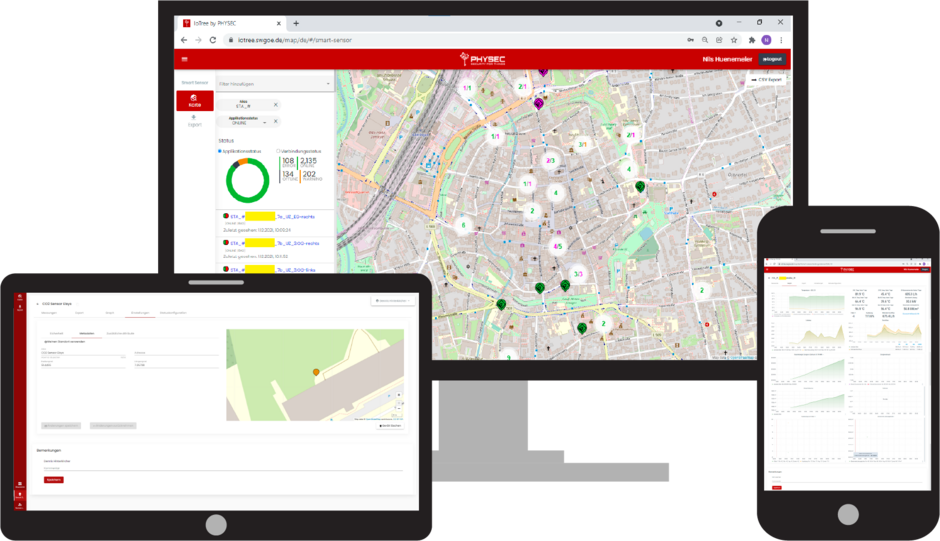 Manages data for everyone
With IoTree, you get a secure, self-service management tool that lets you create and manage new contracts and access analytics and smart rules for your business user groups. To reduce configuration and deployment risks, our device, key, user management and login schemes meet the highest usability standards, e.g. passwords are no longer required.
Usable security and privacy by design
IoTree provides architecture, protocols, infrastructure and smooth operations according to the highest security levels and best usability standards. During implementation, we follow the Secure Development Lifecycle within an agile development environment. IoTree-specific aspects are: Onboarding and Key Management, OTA Firmware Updates, Public Key Infrastructure (PKI), Intrusion Detection and Prevention System (IDPS), Physical Tamper Detection (SEAL) and Threat Modeling.
Quote 1
"We have been working and developing together with PHYSEC in the field of Internet of Things since 2018. Together, we have quickly and reliably established an area-wide LoRaWAN network within Bochum and use the data hub 'IoTree' to visualize and evaluate received data - without compromising on IT security."
Municipal Utility
Bochum Netz GmbH
Quote 2
"In the future of loT and edge computing, it will be more and more difficult to ensure that physical assets are protected by their operational environment. So we clearly see the need for a self-defending system based on PHYSEC's innovative surveillance technology."
Secunet AG
Quote 3 (copy 1)
Stadtwerke Göttingen
"The IoTree platform provides convenient access to our LoRaWAN data. Due to the intuitive operation, the various settings and the map function, we always have a perfect overview of our devices. Thus processes get optimized and enable a smooth workflow."
Municipal Utilities
Goettingen AG
Automated remote meter reading avoids meter reading errors and provides data for optimizing the water network infrastructure.
Digital heat meters help to realize efficiency gains in the network and to comply with the new regulations of the District Cooling Consumption Metering and Billing Ordinance (FFVAV).
The challenges of the energy transition require digital monitoring of low-voltage networks.
Start now and get advice from our experts!
Daniella Gabbai (M.A.)
Senior Product Manager (IoTree)