PHYSEC - Physical security for your hardware
Your professional and innovative partner for embedded security, communications engineering and regulatory affairs.
Secure communication between IoT device and digital service platform is the decisive factor for the sustainable and scalable digitalisation of your products in the Internet of Things today. In the future, tamper protection for IoT devices and supply chain security verification will also be important issues.
These challenges affect: all CRITIS companies, companies that operate with personal data (health, smart home, etc.), companies whose confidential corporate information and billing are the subject of IoT applications. PHYSEC takes a holistic view of IoT security from research, regulatory and industry perspectives, allowing you to fully focus on use cases.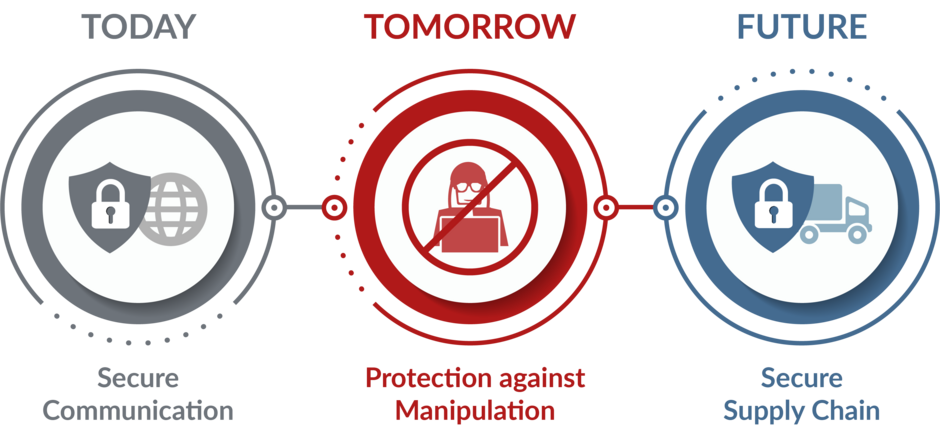 Our IoT platform IoTree® enables central security features like anomaly detection, key management and updates for all IoT devices. By integrating our SIoT firmware into your product, additional security features can be realized. This includes TLS encryption for LPWAN (LoRaWAN®, NB-IoT), tamper protection for IoT devices in the field, and supply chain verification. Decide which level of security gives your products the optimal competitive position, depending on the use case and applicable regulations.
Industries
Interdisciplinary expertise for individual solutions
Some of the world's leading companies rely on PHYSEC technology to secure networked products. You will find our products in the areas of sensors/actuators, measurement devices, industry and many other use cases up to household electronics. The optimal IoT security strategy for your product is determined by technology, regulation, market requirements and use case.
When developing new smart products or connecting existing products, the IoT security strategy is a decisive factor for sustainable market acceptance and profitability. Secure communication of devices with little computing power, energy and data volume is the basis for all further requirements.
In order for companies defined as critical infrastructures to implement use cases in the context of the Internet of Things, other industry-specific regulations must be observed in addition to the general requirements.
Remote meter reading offers considerable potential for cost savings and is the basis for new business models. The data protection-compliant transmission of personal or reference data in accordance with the state of the art is the decisive factor for sustainable implementation.
Regulatory expertise
Because legal requirements are the basis
The Internet of Things is characterized by rapid technological change. The constantly changing state of the art as well as the regulation on European or German level and for certain industries, lead to a complex web of dynamically changing challenges, especially for products that are used in regulated areas.
The EU Cybersecurity Act Certification Schemes: Security Assurance Levels define three security levels for IoT devices: Basic, Substainable and High. Depending on the use case (consumer, enterprise, CRITIS), certain requirements for IoT security must therefore be met. PHYSEC's products already take into account the requirements for the areas of CRITIS at EU level and incorporate regulatory developments in the area into further product development.
Companies that are counted among the critical infrastructures and those that collect personal data must comply with the specifications of the BSI in order to implement IoT use cases in a legally compliant manner. As a permanent member of the BSI task forces "Smart Metering/Submetering" and "Smart Grid", we are actively involved in shaping regulation in these areas and can optimally support our customers in requirements analysis and implementation.
Products
Future-oriented and safe
Our innovative products are based on PHYSEC's holistic approach to security in the Internet of Things. The central building block is our IoT platform IoTree®. It serves as a security hub and provides all the key functions your customers need for convenient management of IoT hardware in the field and for processing the collected data. At the same time, IoTree® represents the software complement for our SIoT module. Implemented in your hardware products, the SIoT module provides end-to-end TLS encryption for LoRaWAN® and NB-IoT and also enables effective tamper protection of the hardware during transport and in the field.
Quote 1
"The cooperation with PHYSEC is a great enrichment for us. The seamless support and the direct exchange enable us to digitize the meter system quickly and securely. Due to the comprehensive understanding of PHYSEC with its platform loTree, the heat efficiency package was created, implemented and further developed. During the rollout, further exciting use cases were created that are being worked on continuously".
Municipal Utilities
Goettingen AG
Quote 2
"These young German innovators show an impressive combination of entrepreneurial and scientific-technical skills and are developing a technology with the potential to impact the world."
MIT Technology Review
Quote 3
"We have been working and developing together with PHYSEC in the field of the Internet of Things since 2018. Together we quickly and reliably set up a comprehensive LoRaWAN® network within Bochum and use the data hub IoTree® to visualize and evaluate received data - without making any compromises in the area of IT security."
Municipal Utilities
Bochum Netz GmbH